Aside from managing social media for Brave Soldier, I enjoy a few endurance sports myself. I have been an avid snowboarder for many years and couldn't wait to try out Brave Soldier products on the mountain. I traveled up to Snowshoe, West Virginia with a few girlfriends for a weekend break getaway.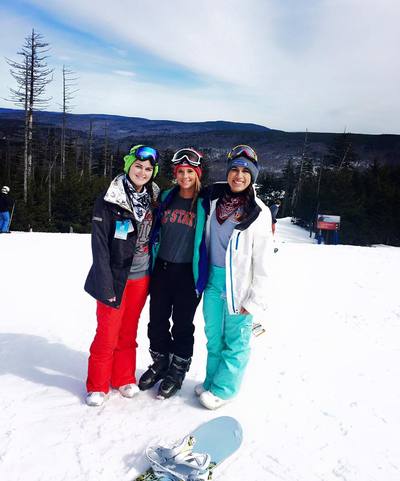 We were lucky to have great weather for the first few days, sunshine and semi-warm conditions always make for a great day on the mountain. However, what many new boarders don't realize is on days like these, is the sun reflects off the snow and can give you the coldest sunburn you have ever had. Many may think a sunglass sunburn is embarrassing, but it cannot beat the outline of goggles. Not only did Solar Shield keep me from embarrassing myself with a painful sunburn but it also kept my face from feeling the typical wind burn a ride down a trail can give you. And, the product stays on and works longer. At the close of a day of riding, there is usually intense dryness on every inch of my face if I wasn't smart enough to cover with goggles or a faceguard.
Another affect of the wind on your face as you snowboard down the side of a mountain is your lips dry out. Brave Soldier's Lip Defender is my favorite product and I carry it with me everywhere I go. On this trip is was even more important. An application on the ski lift kept me from feeling the pain later.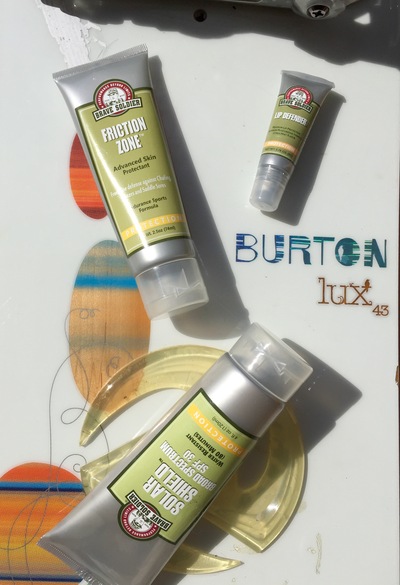 In the biking community, many may know about Friction Zone. It has saved many a cyclist from from rashes on the road. The socks that I wear snowboarding may keep my feet warm, but they don't help against blisters after four days of riding. I found that a single application of Friction Zone every morning before I put my socks on kept me from getting blisters on the sides of my feet and ankles. All in all, I enjoyed the weekend, but I also enjoyed not having a sunburn, blisters, or dried skin!